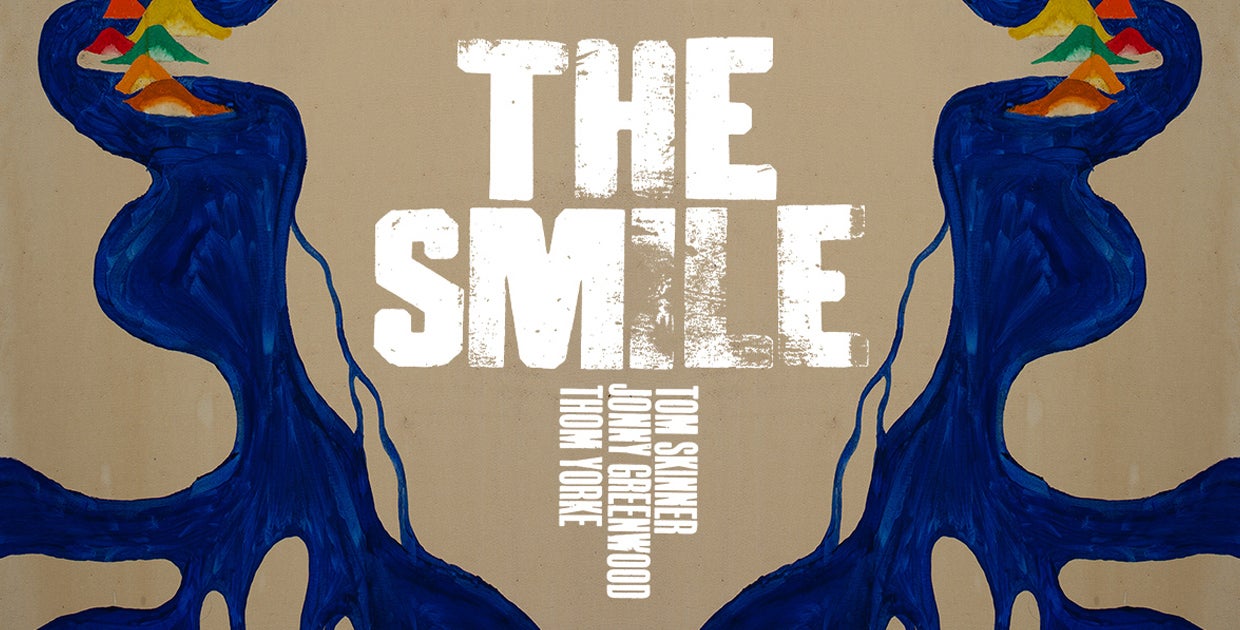 The Bowery Presents
The Smile
With Support from Robert Stillman
The Bowery Presents
The Smile
With Support from Robert Stillman
Event Details
"Not The Smile as in ha-ha-ha, more The Smile as in the guy who lies to you every day"… so speaks Thom Yorke on the inspiration behind the name of the new trio consisting of himself, his Radiohead bandmate Jonny Greenwood and drummer Tom Skinner of UK jazz outfit Sons of Kemet. The description is borne out by The Smile's acerbic first single "You Will Never Work In Television Again," a 2:48 blast of ragged, raw energy that moved The New York Times to rave: "Over a bruising 5/4 beat and flailing guitars climbing through three chords, Yorke snarl-sings his avenging fury at 'some gangster troll promising the moon' who'd devour 'all those beautiful young hopes and dreams,' and you can almost feel the spittle flying." "You Will Never Work In Television Again" was one of eight songs played by The Smile during the band's debut performance as part of the 2021 global streaming Glastonbury event Live At Worthy Farm. Following the release of second track "The Smoke," The Smile played three back to back live shows across 16 hours and three timezones at Magazine London. Performed in the round to an in-person audience and simultaneously livestreamed worldwide, the hybrid shows featured multiple songs that comprise The Smile's first album, A Light For Attracting Attention, released digitally May 13th via XL Recordings. Produced by Nigel Godrich and featuring additional critically acclaimed singles "Skrting On The Surface," "Pana-vision," "Free In The Knowledge" and "Thin Thing," A Light For Attracting Attention features strings by the London Contemporary Orchestra and a full brass section of contemporary UK jazz players including Byron Wallen, Theon and Nathaniel Cross, Chelsea Carmichael, Robert Stillman and Jason Yarde. The Smile began their 2022 European tour on May 16th in Croatia with UK dates in London, Edinburgh, and Manchester, before heading back into Europe, finishing their headline shows in Taormina, Sicily, on July 20th and with a final UK date in London's All Points East on 28th August.
---
Updated COVID-19 policies apply for this event. Proof of vaccine or negative COVID-19 test are not requred. Masks are optional and welcome.
Tickets are available for purchase online, by phone at (401) 421-ARTS (2787), or at the PPAC Box Office located at 220 Weybosset Street in downtown Providence. Box Office Hours are M-F, 10A–5P; Sat 10A-2P. Summer hours are M-Th 10A-3P. The VETS on-site Box Office is only open on show days. Children under the age of six are not permitted to attend performances unless it is designated as a family show. Please call the Box Office at (401) 421-2787 to see which shows are appropriate for younger children. All persons regardless of age are required to have a ticket for family shows. Ticket pricing subject to change without notice.
Health & Safety Information
Updated COVID-19 policies apply for this event. Proof of vaccine or negative COVID-19 test are not requred. Masks are optional and welcome.
Due to ongoing roadwork, road closures and alternate traffic patterns may be in effect. Please plan accordingly. For Directions & Parking Info
Our guests' safety is our top priority. Due to enhanced security, walk-through metal detectors are now used at all performances. Firearms, weapons, backpacks, suitcases, briefcases, and laptops are not allowed in the building. All bags will be searched upon arrival. Please arrive 35-45 minutes early for entry into the building.
Outside food and beverages are not allowed in the theatre. We invite you to enjoy any snack or beverage purchased at The VETS during the performance in your seat. All bars only accept cashless options including credit, debit, and mobile payments. For more information