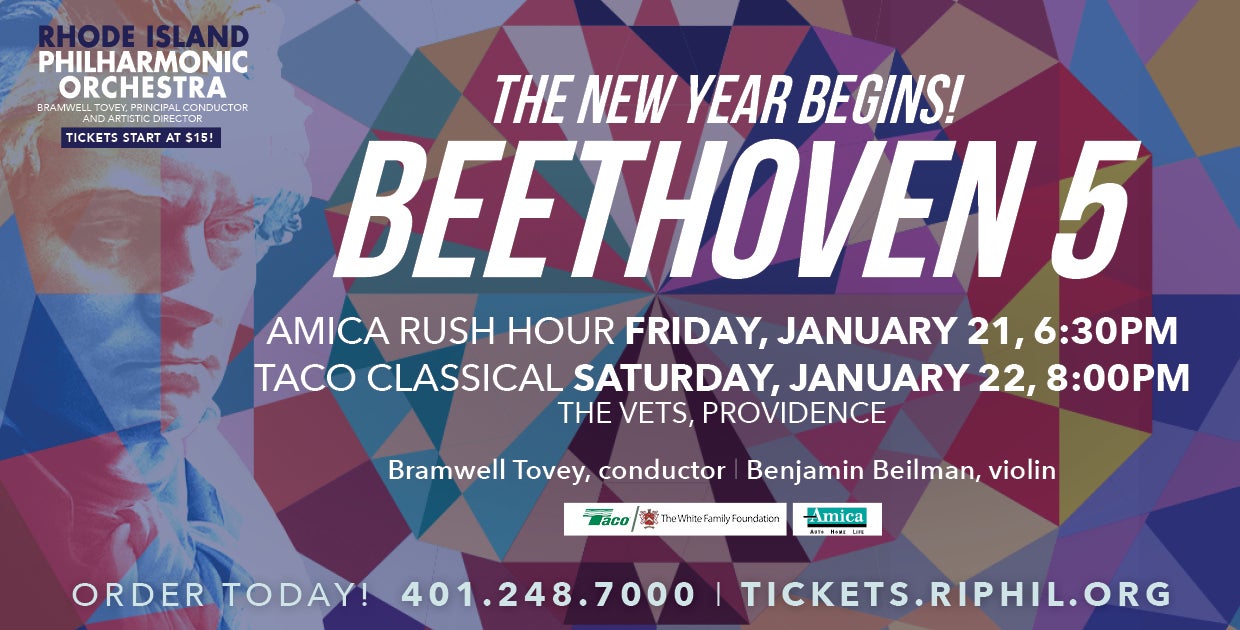 RI Philharmonic Orchestra
Beethoven 5
RI Philharmonic Orchestra
Beethoven 5
Event Details
Bramwell Tovey, conductor
Benjamin Beilman, violin
WAGNER: Prelude to Act I of Die Meistersinger von Nürnberg
(Side-by-Side concert with students from the Rhode Island Philharmonic Music School!)
BRAHMS: Violin Concerto
BEETHOVEN: Symphony No.5
Tickets start at $15, visit tickets.riphil.org or call 401-248-7000 to purchase today!
---
Amica Rush Hour
Friday, January 21, 2022
---
Important Vaccine Policy Change for January Concerts
Due to the current surge of COVID-19 cases and to ensure your health and safety (as well as that of the orchestra, staff and crew) the following changes to Rhode Island Philharmonic Orchestra concert attendance policies have been updated:
All patrons will continue to be FULLY VACCINATED* to attend the January 21st and January 22nd Rhode Island Philharmonic Orchestra concerts at The VETS.
Negative PCR or Antigen tests WILL NOT be accepted for these performances.
*"Fully vaccinated" means that on the day of the performance at least 14 days have elapsed since the patron's final dose of an FDA or WHO approved two- or one-dose COVID-19 vaccine.
Upon entering The VETS, patrons can quickly provide:
Proof of vaccination from the healthcare provider who administered the vaccination, either with a physical copy or on a smartphone, and
Accepted form of ID: Patrons 18 years and older with a government-issued photo ID, such as a driver's license or passport. Patrons under 18 may use a government-issued photo ID or school photo ID.
If you have any questions, please email BoxOffice@riphil.org or call 401.248.7000.
PLEASE NOTE: RIPO Tickets are available only by visiting RIPO's website or calling the RIPO Box Office at 401-248-7000. The VETS/PPAC Box Office is not able to sell RIPO tickets or make changes to existing orders.
Health & Safety Information
Proof of Vaccination is required to attend this event. A negative COVID-19 test will not be accepted. Masks must be worn by all patrons.
If you have any questions, please email BoxOffice@riphil.org or call 401.248.7000.