Veterans Memorial Auditorium
RI Philharmonics's 2019 Gala Celebration - All Tchaikovsky with Bramwell Tovey

March 31, 2019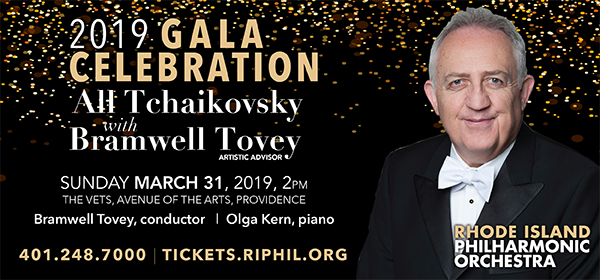 RI Philharmonics's 2019 Gala Celebration - All Tchaikovsky with Bramwell Tovey
RI Philharmonics's 2019 Gala Celebration - All Tchaikovsky with Bramwell Tovey
March 31, 2019 • 2:00 PM
A spectacular all-Tchaikovsky program featuring
Olga Kern performing the First Piano Concerto.
Bramwell Tovey, conductor
Olga Kern, piano
TCHAIKOVSKY: Eugene Onegin: Polonaise
TCHAIKOVSKY: Piano Concerto No.1
TCHAIKOVSKY: Symphony No.5
---
**PLEASE NOTE: RIPO Tickets are available only by visiting RIPO's website or calling the RIPO Box Office at 401-248-7000. The VETS/PPAC Box Office is not able to sell RIPO tickets or make changes to existing orders.
Tickets Info

**PLEASE NOTE: RIPO Tickets are available only by visiting RIPO's website or calling the RIPO Box Office at 401-248-7000. The VETS/PPAC Box Office is not able to sell RIPO tickets or make changes to existing orders.

Availability