FBP BRR Vets Website_Event banner image.jpg
Festival Ballet Providence presents Ballets Russes Reinvented

October 23, 2015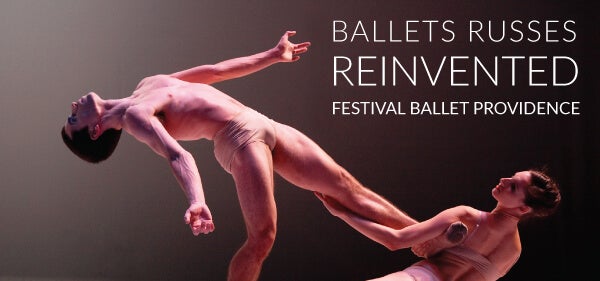 Festival Ballet Providence presents Ballets Russes Reinvented
Festival Ballet Providence presents Ballets Russes Reinvented
October 23 - 25, 2015
Masterworks of ballet, reimagined and reinvented a century later.
Afternoon of a Faun (music: Claude Debussy, choreography: Dominic Walsh) Le Spectre de la Rose (music: Carl-Maria Von Weber, choreography Dominic Walsh) Swan (music: Camille Saint-Saëns, choreography: Viktor Plotnikov) The Firebird (music: Igor Stravinsky, choreography Mihailo Djuric)
A century ago, the "Ballets Russes," led by visionary impresario Sergei Diaghilev, introduced the world to daring new works of dance that would set a bold new course for ballet in a rapidly changing world. The troupe helped bring together visionaries like Debussy, Nijinsky, Picasso, and Stravinsky, making them household names in the process. A century later, FBP's "Russes Reinvented" offers fresh perspectives on three of the most prolific Ballet Russes works: the poetic Spectre de la Rose, mysterious Afternoon of a Faun, and the epic Firebird. Don't miss a daring new perspective on groundbreaking works of dance.
Reinvented will present daring new stagings by contemporary choreographer and former Houston Ballet principal Dominic Walsh and FBP artistic director Mihailo Djuric. "All of these ballets were groundbreaking creations in their time, and helped to lay a foundation for contemporary ballet as we know it today," said Djuric. "With these reinterpretations, we hope to pay homage to that legacy by pushing the envelope yet again," he said.
For Festival Ballet Providence subscription information CLICK HERE
Tickets Info

Tickets are available for purchase online, by phone at (401) 421-2787, or at the PPAC Box Office located at 220 Weybosset Street in downtown Providence. Box Office Hours: M-F, 10A – 5P; Sat 10A-2P. Summer hours vary and are TBD. The VETS on-site Box Office is only open on show days. To ensure the enjoyment of all patrons, children under the age of six are not permitted to attend performances unless it is designated as a family show. Please call the Box Office at (401) 421-ARTS (2787) to see which shows are appropriate for younger children. All persons regardless of age are required to have a ticket for family shows. Ticket pricing subject to change without notice.

Price

$85-$23

Availability