Veterans Memorial Auditorium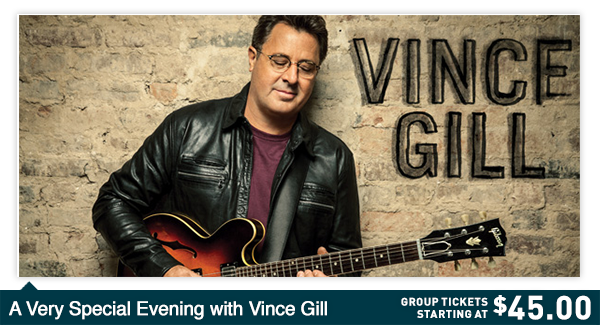 Friday, October 11th at 8:00pm
One of the most popular singers in modern country music, Vince Gill is famous for his top-notch songwriting, world-class guitar playing and warm, soaring tenor, all wrapped up in a quick and easy wit. Since achieving his big breakthrough in 1990 with "When I Call Your Name," Gill has won 18 CMA Awards and 21 Grammy Awards. He is a member of the Nashville Songwriters Hall of Fame, the Country Music Hall of Fame, and the Grand Ole Opry. Gill has produced albums for The Time Jumpers, LeAnn Rimes, Amy Grant and Ashley Monroe, and has made guest appearances on more than 1000 albums, including those by Barbra Streisand, Eric Clapton, Willie Nelson, Dolly Parton, George Jones and others.
Experience A Very Special Evening with Vince Gill together as a group - with discounted tickets starting at just $45.00 per person for groups of 10 or more!
---
For more information contact Andrew Clark at:

---
About PSE Group Events
PSE Group Events offer groups of all sizes the chance to see some of the best shows, concerts and events appearing at The VETS each year, and include many other great benefits:
Discounted ticket pricing for all group members
Great seats together as a group
Organizational materials provided - including customized flyers and sign-up sheets
Dedicated group sales representative to assist you at each step of the group process
Click here to learn more about PSE Agency + Group Events at The Vets.
---
---
*PSE group event prices subject to change. Group event availability subject to change.