Veterans Memorial Auditorium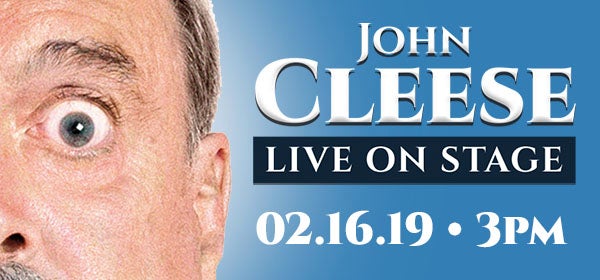 Sunday, February 16th at 3:00pm
Find Out The Air-Speed of an Unladen Swallow When
JOHN CLEESE Answers this Question and More LIVE ON STAGE
After a 45th Anniversary Screening of Monty Python and the Holy Grail
Living comedy legend, JOHN CLEESE, is heading in your general direction for a live and truly unforgettable evening of conversation and audience Q&A.*** Absurd and/or ridiculous questions only are requested, please.
John will tell stories of his life and career and you just may finally find out the air-speed of an unladen swallow. Before John silly walks his way on to the stage, the excitement will build as the audience will get to watch a 45th anniversary screening of Monty Python and the Holy Grail in its entirety on the big screen.
Don't miss your chance to see the man who has achieved nothing short of comedy royalty in this thrill-of-a lifetime evening.
***Coconuts NOT included in ticket price.
Experience John Cleese Live together as a group - with discounted tickets starting at just $75.75 per person for groups of 10 or more!
---
For more information contact Andrew Clark at:

---
About PSE Group Events
PSE Group Events offer groups of all sizes the chance to see some of the best shows, concerts and events appearing at The VETS each year, and include many other great benefits:
Discounted ticket pricing for all group members
Great seats together as a group
Organizational materials provided - including customized flyers and sign-up sheets
---
*PSE group event prices subject to change. Group event availability subject to change.