Veterans Memorial Auditorium
​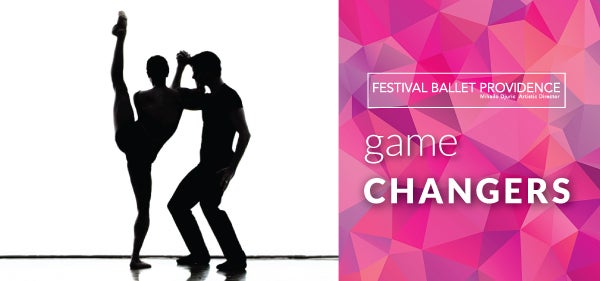 Festival Ballet Providence presents Game Changers
Friday, February 7th at 7:30pm
Saturday, February 8th at 7:30pm
Sunday, February 9th at 2:00pm
Three choreographers at the top of their game.
It's an evening of movement, music, and athleticism that packs a punch, with works by innovative choreographers at the top of their game, plus powerful music performed live. From Tony Award-winner Christopher Wheeldon's arresting Morphoses to a bold and pulsing new work from powerhouse duo choreographer Yury Yanowsky and singer/songwriter Josh Knowles (performing live), "Game Changers" is bursting with creativity that you never thought possible and sure to challenge your perception of how bold ballet can be.
Wheeldon's Morphoses
Tony Award winner Christopher Wheeldon created Morphoses in 2001 following his breakout hit for New York City Ballet Polyphonia. In this elusive contemporary work for four dancers (whose original cast included America's greatest contemporary ballerina, Wendy Whelan), "change" takes center stage in a piece that hits the extremes of human athleticism and artistry. From a primeval ground-swell of undulating bodies, to intricate—at times chaotic—partnering yielding extraordinary shapes and structures, this work promises to keep you on the edge of your seat and leave you wanting more.
Music: György Ligeti
Choreography: Christopher Wheeldon
Yanowsky's Same [WORLD PREMIERE]
Powerhouse choreographer Yury Yanowsky is known for upending tradition with daring moves and contemporary concepts designed to shatter expectations. His new work, Same, is a collaborative adaptation of singer/songwriter Josh Knowles' breakout hit of the same name. With a pulsing beat, powerful visuals, and music sung and performed live by Knowles collaboratively moving with the dancers on stage, Same offers something truly different.
Music: Josh Knowles
Choreography: Yury Yanowsky
Experience Festival Ballet Presents Game Changers together as a group - with discounted tickets starting at just $15.00 per person for groups of 10 or more!
---
For more information contact Andrew Clark at:

---
About PSE Group Events
PSE Group Events offer groups of all sizes the chance to see some of the best shows, concerts and events appearing at The VETS each year, and include many other great benefits:
Discounted ticket pricing for all group members
Great seats together as a group
Organizational materials provided - including customized flyers and sign-up sheets
Dedicated group sales representative to assist you at each step of the group process
---
---