Veterans Memorial Auditorium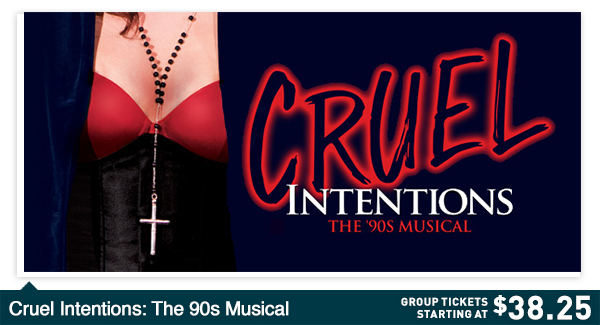 Saturday, March 30th at 8:00pm
Based on the French novel, Les Liaisons Dangereuses, and the classic cult film starring Reese Witherspoon, Ryan Phillipe and Sarah Michelle Gellar, Cruel Intentions: The '90s Musical Experience pulls you into the manipulative world of Manhattan's most dangerous liaisons: Sebastian Valmont and Kathryn Merteuil. Seduced by revenge and fueled by passion, the two diabolically charming step-siblings place a bet on whether or not Sebastian can deflower their incoming headmaster's daughter, Annette Hargrove. As the two set out to destroy the innocent girl—and anyone who gets in their way—they find themselves entangled in a web of secrets, temptation, and the cruelest game of all: love.
Featuring your favorite throwback hits by artists like Boyz II Men, Christina Aguilera, REM, *NSYNC, and, of course, Britney Spears, NYC's most intoxicating new musical is a full-on '90s party.
Experience Cruel Intentions: The 90s Musical together as a group - with discounted tickets starting at just $38.25 per person for groups of 10 or more!
---
For more information contact Ryan Doyle at:

---
About PSE Group Events
PSE Group Events offer groups of all sizes the chance to see some of the best shows, concerts and events appearing at The VETS each year, and include many other great benefits:
Discounted ticket pricing for all group members
Great seats together as a group
Organizational materials provided - including customized flyers and sign-up sheets
Dedicated group sales representative to assist you at each step of the group process
Click here to learn more about PSE Agency + Group Events at The Vets.
---
---
*PSE group event prices subject to change. Group event availability subject to change.