Veterans Memorial Auditorium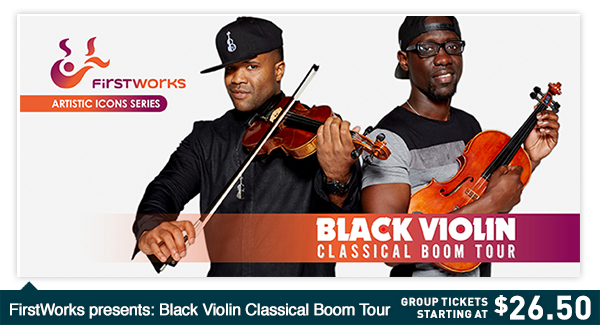 Black Violin: Impossible Tour
WEDNESDAY, APRIL 15, 2020 • 7:30 PM
---
Black Violin is lead by classically trained string players Wil B. (viola) and Kev Marcus (violin). Joining them onstage are DJ SPS and drummer Nat Stokes. The band uses their unique blend of classical and hip-hop music, often described as "classical boom," to overcome stereotypes and encourage people of all ages, races, and economic backgrounds to join together to break down cultural barriers.
Black Violin is currently writing and recording their next studio album, "Take the Stairs," available November 1, 2019. Their last record, Stereotypes, debuted at #1 on the Billboard Classical Crossover Chart and #4 on the Billboard R&B Chart. NPR praised the album and band, saying "their music will keep classical music alive for the next generation." Some of their creative collaborations include Kanye West, Wu-Tang Clan, Wyclef Jean, Lil Wayne, and Alicia Keys.
Experience Black Violin: Impossible Tour together as a group - with discounted tickets starting at just $26.50 per person for groups of 10 or more!
---
For more information contact Andrew Clark at:

---
About PSE Group Events
PSE Group Events offer groups of all sizes the chance to see some of the best shows, concerts and events appearing at The VETS each year, and include many other great benefits:
Discounted ticket pricing for all group members
Great seats together as a group
Organizational materials provided - including customized flyers and sign-up sheets
Dedicated group sales representative to assist you at each step of the group process
Click here to learn more about PSE Agency + Group Events at The Vets.
---
---
*PSE group event prices subject to change. Group event availability subject to change.