Veterans Memorial Auditorium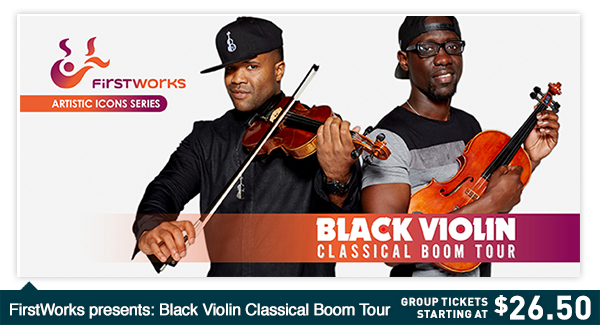 Wednesday, April 3rd at 7:30pm
"Black Violin upends cultural and musical stereotypes… an unexpected blend of classically trained musicianship and hip-hop beats and inventiveness."
—The Miami Herald
Classical music and hip-hop collide! The groundbreaking duo Black Violin blurs the lines between musical genres with their one-of-a-kind, family-friendly fusion of groove and strings.
Violist Wil B. and violinist Kev Marcus are classically trained musicians bringing hip-hop samples and a party atmosphere to their live show of dueling strings. They are joined on stage by their band—named one of the "hottest bands at SXSW"—featuring turntable whiz DJ SPS.
Get up and get down to an unforgettable mix of classical, hip-hop, rock, R&B, and bluegrass as Black Violin delivers its genre-shattering, signature sound: classical boom.
No Children Under 6
Experience FirstWorks Black Violin Classical Boom Tour together as a group - with discounted tickets starting at just $26.50 per person for groups of 10 or more!
---
For more information contact Ryan Doyle at:

---
About PSE Group Events
PSE Group Events offer groups of all sizes the chance to see some of the best shows, concerts and events appearing at The VETS each year, and include many other great benefits:
Discounted ticket pricing for all group members
Great seats together as a group
Organizational materials provided - including customized flyers and sign-up sheets
Dedicated group sales representative to assist you at each step of the group process
Click here to learn more about PSE Agency + Group Events at The Vets.
---
---
*PSE group event prices subject to change. Group event availability subject to change.