Veterans Memorial Auditorium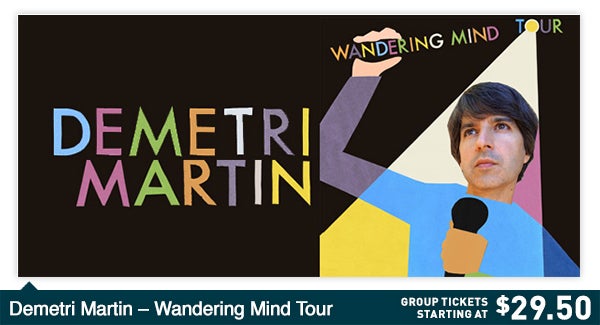 Sunday, November 10th at 7:00pm
Demetri Martin is a standup comedian, artist, writer, and director. He began doing standup comedy in New York City, where he worked as a staff writer for Late Night with Conan O'Brien. Demetri then became a regular performer on The Daily Show with Jon Stewart. Demetri won awards for his one man shows around the world, and his books have been New York Times bestsellers. Demetri has released three standup comedy albums and four hour-long standup comedy specials, including his latest for Netflix, The Overthinker. He created and starred in his own television series for Comedy Central called Important Things with Demetri Martin.
Experience Demetri Martin – Wandering Mind Tour together as a group - with discounted tickets starting at just $29.50 per person for groups of 10 or more!
---
For more information contact Andrew Clark at:

---
About PSE Group Events
PSE Group Events offer groups of all sizes the chance to see some of the best shows, concerts and events appearing at The VETS each year, and include many other great benefits:
Discounted ticket pricing for all group members
Great seats together as a group
Organizational materials provided - including customized flyers and sign-up sheets
Dedicated group sales representative to assist you at each step of the group process
Click here to learn more about PSE Agency + Group Events at The Vets.
---
---
*PSE group event prices subject to change. Group event availability subject to change.